If you are having difficulties viewing this email, please view it in your browser.





IN THIS ISSUE

*FIRST IN LINE 2015

*BATTLE OF THE BREEDS 2014

*TULLY & LIONESS'S NEW HOME

*NEW HERD MANAGEMENT PARTNERSHIP OPPORTUNITIES

*PLANNED EVENTS FOR 2015


Fall 2014

Well it's been a good and busy year, so we are a wee bit behind on North Fork updates! With Christmas coming up fast on our heels, we thought we'd better get this newsletter out there now and try to cover at least the highlights of this past year as well as events we are looking forward to in the coming year.  We hope all is well with you and yours, and that you enjoy this latest glimpse into our very favourite obsessions, our Gypsies!
As usual, we'd love to have your questions or comments, so if there's anything you'd like to talk about with us please feel free to email us at info@northforkhorses.com or call us at 604-510-1935
We hope you enjoy our updates and find something we've shared to be of help or interest. Make sure you stop by our website for more on the highlighted stories or to check out our horses for sale. 
North Fork e-news - your source for news, information and fun facts.
First In Line

We've had a great year for First in Line, all 7 foals available for sale this year went quickly!  The last Tumbleweed foal for this year just recently went to his new home.  All are happy and healthy and enjoying their new homes.  We couldn't be more pleased with all who are now part of our North Fork Family.  

That being said, it's time to get your name in for the 2015 First in Line foals.  No money down, its an opportunity to get in line for the pairing of your choice.  When the foal arrives and if we decide  to sell them, you will be the first person contacted.  At that time and only after you see picture, video and visit if you can, will you make the decision of whether to add them to your family.  It's a win all around! 

Here is the line-up for this year:

North Fork Beauty

X

Clononeen Tumbleweed

Clononeen Celestial


X


Clononeen Tumbleweed

Clononeen Layla


X


Clononeen Tumbleweed

Clononeen Lioness


X




North Fork Cash

*No longer available as mare has been sold to Spruce Meadows

Clononeen Violet


X


North Fork Rorschach


North Fork Lacey


X


North Fork Cayenne

North Fork Mana


X


North Fork Dantae

Clononeen Isabel


X


North Fork Aslan

North Fork Aurora


X


North Fork Aslan

North Fork Star


X


North Fork Aslan

North Fork Faith


X


Indigo's Royal Knight

Gone Gypsy Farm

Clononeen Priceless


X


North Fork Dantae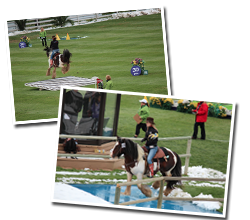 Battle of the Breeds 2014
We were proud and excited to once again be a part of Team Gypsy Vanner for Spruce Meadows' Telus Battle of the Breeds.  Despite rather shocking winter conditions, Clononeen Tullamore Dew (ridden by Wendy Walker), Rollin' Thunder Bailey (ridden by Angela Ruether), and North Fork Cash (ridden by part owner Jackie Johnson) did well, and the final placing for Team Gypsy Vanner was 7th.  This brought them up 5 spots from their 12th place finish at this venue in 2013 against some of the toughest competitors they've ever been up against! As quoted by team leader Jackie, "This is only the 3rd Battle of the Breeds competition for Team Gypsy Vanner and they are certainly getting noticed as contenders who come in stronger and more competitive with each event. Battle gives the teams' horses and riders a chance to measure their skills against their peers. Between Battles, the Teams riders, and their horses are continuously training, competing and showing to improve their skills and talents and offer the best showing of this fabulous breed. Thank you to the Gypsy Vanner Horse Society, and all of our sponsors for your continued support."  For the full article by Jackie Johnson, click here.
Tully and Lioness's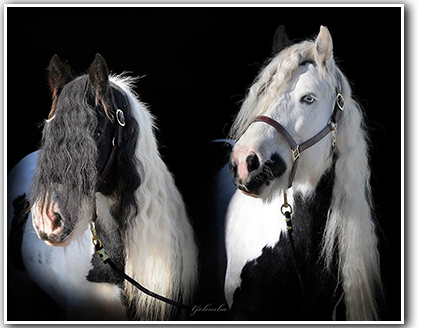 New Home
Tully and Lioness have a new home!  It is a great pleasure to welcome Linda Southern-Heathcott, President and CEO of Spruce Meadows in Calgary, Alberta, Canada, as a new owner of our beloved breed, the Gypsy Vanner (also known as Gypsy Cobs).  Spruce Meadows is a world-renowned Equestrian facility, drawing more than 1,000 competitors and over 500,000 spectators to its  show jumping tournaments and events every year. A former Olympian herself, Linda Southern-Heathcott competed in the Atlantic Olympic Summer Games for the Canadian Olympic Team.
 
North Fork Gypsy Cobs first came to Spruce Meadows' attention after showing their horses in the Breeds of the World Exhibit in 2009.  They continued to be involved in various events and demonstrations over the years such as the prestigious TELUS Battle of the Breeds, culminated this year in winning Fan Favorite.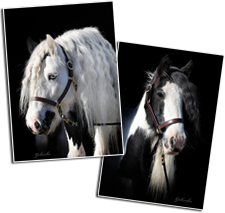 It was then that the
idea of a matched team of these beautiful and talented horses came into being.

Spruce Meadows' goal is to use their new ride and drive team of Tully and Lioness in and around the facility where they will serve as ambassadors to all the visitors of Spruce Meadows.  Their stamp of approval is a validation of what all Gypsy owners and breeders already know – these horses are unique among all horses in the world, versatile in multiple disciplines, and their incredible character and personality is matched only by their beauty.  We look forward to seeing more of Tully and Lioness in the future as they represent the best of these qualities on behalf of all those who love the Gypsy Vanner.

For the full story, click here.  For the Spruce Meadows Media Release, click here.
New Herd Management Opportunities

We are expanding!  If you love Gypsy Horses and have a head for business, we're looking for you!  We provide the horses, you provide the care.  Between us, cost and profits are split 50/50.  If you're in Alberta or BC, we would like to chat.  For more information, click here.
Planned Events for 2015
Saskatchewan Equine Expo 2015 - www.saskatchewanequineexpo.ca

Saskatchewan GVHS Evaluations

Spruce Meadows' Battle of the Breeds

Equine Canada Tournaments

Various Events in Saskatchewan and Alberta
Following our direction of moving on from "wow that's a pretty horse", we are continuing our efforts in showing the Equine community that the Gypsy Cob is versatile, talented, and eminently trainable.  Backing this up with our Registry evaluations, competitive events, and breeding program direction, we hope to continue showing what this wonderful, talented, loving horse can do.  Keep an eye out on our website and Facebook for reports on our involvement going forward.
Look for news soon about a new member of the herd - we are excited!!!