Geldings For Sale
Welcome to our gelding page. One of the first things we would like to say is that just because we decide to geld a horse does NOT mean they are of inferior quality in any way shape or form. Our reasoning in gelding a colt is based on the idea that a truly exceptional "stallion quality" colt only comes along once in a very long while. We feel that unless a colt can at least meet or exceed the quality of its sire, it should be gelded. At times, even if this level of quality is met we will still geld him, as there is no purpose to having too many competing stallions in the market place.
Our geldings are all of exceptional quality, whether you are looking for something to show, ride or drive, any of our boys can fit the part. The major bonus of purchasing a gelding as a buyer is that because they are not breeding stock, they are sold at very reduced prices. These wonderful horses are the ambassadors of our breed...the ones we all want out in front of the public. We are proud to have the North Fork name behind each and every one.
Contact us for details
North Fork Bullet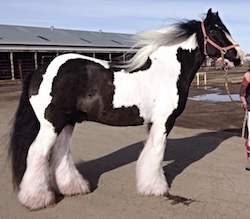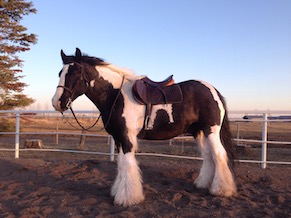 FOR SALE $27,000 USD
Clononeen Tumbleweed
Clononeen Layla
June 26, 2010
It is with great pleasure that we offer this spectacular gelding for your consideration:
North Fork Bullet: June 26, 2010 gelding.
Layla x Tumbleweed (1st GVHS Hall of Fame Stallion).
GVHS evaluation 14.3hh
GVHS Versatility Medallion
GVHS 5 Star Driving
PSSM Negative

North Fork Bullet is a tall 14.3hh, traditionally built gelding suitable for an adult or older youth amateur or competitive rider looking to ribbon in Dressage, eventing, hunters or jumpers. Started as a 5 year old, Bullet has been used on Team Gypsy Vanner, having competed in Western Dressage, scoring well with minimal training. Bullet has been used competitively in breed shows where he earned overall award for top gelding, showed in competitive trail, English Pleasure, Hunter/Jumper up to 2'9inch with talent to go higher, Barrel Racing, Halter and Dressage. Bullet has also successfully competed Hunter/Jumper in open shows against TB's and Warmbloods and held his own*. With a strong foundation in many disciplines, Bullet has the talent to excel in any area of focus for a competitive rider. Training focus until the time of sale is Hunters with a foundation in Dressage.

Solid on his lateral flexions, Bullet travels with cadence, rhythm, balance, bend and true collection. He has excellent hunter form over jumps and shows potential in the free jump to clear 4' . True to Tumbleweed bloodlines, Bullet is a forward moving horse that hunts the jumps, nails his leads, makes his strides in combination jumps, and is quickly becoming an 'auto-changer' for flying lead changes. On the flats, Bullet is travelling with soft roundness and bend, with a nice swing through his back and elevated shoulders in the canter. His stops are square and he backs lightly and straight with clearly defined steps. All elements of Bullet's skills and abilities will continue to refine as he will stay in training until time of sale.

* Effective April 23rd, 2018 Bullet has achieved the following in his first ever Open Show, against 65 other traditional English 'type' horses (TB's, warmbloods etc)
- Reserve Champion X-Rails Hunters with placings as follows in class sizes 15 - 22 against 'traditional hunter type' breeds:
- x-Rail A - 3rd
- x-Rail B - 6th
- x-Rail - 6th
- x-Rail - 3rd

Bullet also placed 1st in English Show Hack, also against a large class of more 'traditional type' show hack breeds.

Conformationally, Bullet has the large traditional cob build and feather volume worthy of a stallion, cute ears and a pleasing head. Performance wise, Bullet travels with nice overstride, and was awarded GVHS Evaluation top marks for his overall impression and breed type. He stands rock steady for mounting on either side of the saddle, has an elastic gait and is mindful of leg into hand cues. Bullet handles correction well, and is an honest horse who is easy to train, and eager to please. Bullet has been driven single, achieved his 5* rating for GVHS evaluated driving, has also been driven pairs and been used as the wheel horse in hitches (unicorn and in line). In hand, Bullet is always respectful and polite. He stands for clipping, is easy to catch and bridle, loads perfectly, and is unfazed by dogs, kids, or the activities of the busy hunter/jumper barn where he currently resides. On the fun side, Bullet has been used as a demo horse with stunthorse.com, where he travelled to clinics showing people the specifics of trick training. Bullets knows how to smile, step on a pedestal, bow, lay down and sit (both up, and down).

Although safe and reliable, Bullet is most suitable for a confident, quiet, experienced partner who will take the lead, with preference to either a structured lessons program or plans for a competitive show career. Bullet is very soft hearted and thrives in an environment where he can put all of his faith and comfort into his 'take charge' person, so he can focus on the job at hand rather than worry about adjusting for a beginner rider, or making decisions for the team.

Bullet is current on shots, trims and recently had a Coggins done due to showing.
Click on the photos to enlarge.
Please call us or contact us through the CONTACT US page if you're interested in any of the horses listed here.