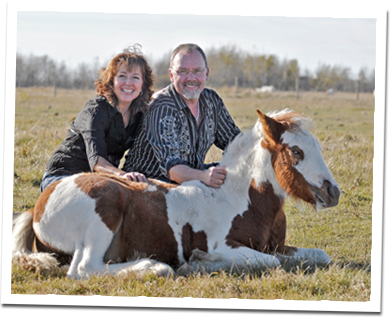 About Us
Our love for horses spans a lifetime and our commitment to breeding the best of the breed is obvious from our chosen breeding stock. We have literally searched the world and brought some of the finest examples of Gypsy Cobs right here to Canada. One of the more famous representations of this breed is one of our stunning stallions… the one and only "ClononeenTumbleweed", known the world over as the "Sire of Sires. He is without a doubt one of the top stallions alive in the world today.
Starting from the very first 6 horses we imported from England our philosophy has been simple and consistent...start with legends and build from there. 
Meet Our Herd Managers
We'd like to introduce our Herd Managers for three of the four locations we have been blessed to make arrangements with. (We are in the process of searching for a BC herd arrangement). Our Managers are looking after our horses on our behalf, and giving them all the same careful care and handling that we have done in the past.
The Saskatchewan Herd Managers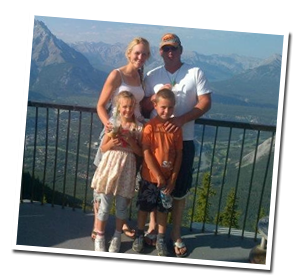 Steve and Angela Ruether, along with their kids Austin and Maddie, are situated just outside of Chamberlain, Saskatchewan.They are ranchers and experienced horse handlers, and have also helped us in some of our demonstrations at major horse events in the past. We're excited to partner with them in this new venture. Tumbleweed will be the herd sire, and five mares along with two other young stallions will round out the Saskatchewan herd. Steve and Angie intend to develop these horses' abilities on their working cattle ranch. More details to follow soon!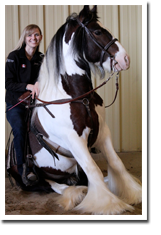 Jackie Johnson, Trick Trainer extraordinaire of Stunthorse.com, is also helping us out by continuing her work with North Fork Cash (whom she is now part owner of). We are excited to continue our partnership with Jackie, as she has worked so hard to promote the breed with us, and will continue to do so in new and exciting ways in the future.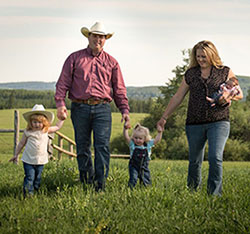 The Alberta Herd Managers
Riley & Stephanie Hickey met on a ranch where Riley was a working cowboy and Stephanie was training horses and teaching horsemanship clinics. They consider it a blessing to be able to raise their 3 little girls on a ranch with lots of room to run, and good horses to ride! The Gypsy Vanners caught their eye as the right temperament to not only teach their children about horses, but for Stephanie to use in her horsemanship clinics and horse-human development program. The Hickey family are situated in the Rimby area.
We will keep you updated as to when we get a herd established in BC as well.  If you are looking to visit with horses in a herd location near you, please contact us through the CONTACT US page and we will put you in touch with them.