Our Fillies
North Fork Woolly Mammoth's Khaleesi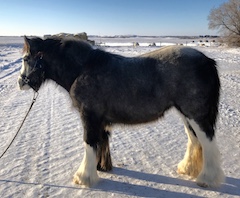 SD Woolly Mammoth
Clononeen Priceless
May 29, 2016
Khaleesi is as proper as they come! Dripping with feather, she is a big boned and heavily built with a quiet but in charge manner. Gentle and compliant, she does all her blood lines proud as the first pairing of her sire and dam. Such greats as The Old Horse of Wales, Samson of Wales, and the Sweeper Mare on her sire's side (among others) and The Lob Eared Horse, Bob The Blagdon and The Horseshoe Mare on her dam's are some of the incredible names part of her family tree. This is a girl that we simply had to keep to add to our breeding program. She is the epitome of quality breeding. Khaleesi is expected to make 14.3. Colour: E/E, Gr/N. PSSM1 N/N​
Click on the photos to enlarge.
North Fork Dantae's Arya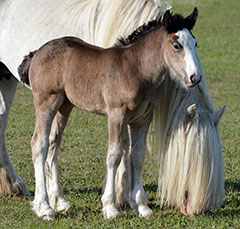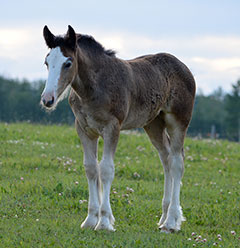 North Fork Dantae
North Fork Priceless
May 31, 2015
We have decided to keep this stunning big girl for our own breeding program. Arya is going to be very thick and tall and we expect her to stand at about 15hh when fully matured. With her big beautiful Bambi eyes, super soft cuddly coat and her absolute love for people she is all we could ever ask for.
Click on the photos to enlarge.
North Fork Tumbleweed's Gracia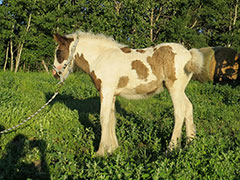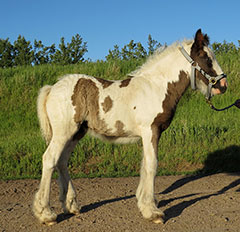 Clononeen Tumbleweed
North Fork Beauty
May 11, 2015
This outstanding girl is as solid as they come and already has loads of hair and feather. She has great markings and as her baby coat starts to shed out she is showing some of the same roaning that her dam and grand dam have. Gracia has a very impressive lineage with Tumbleweed being her sire, Silky Boy her grandsire and the one and only Billy Boy, AKA the Christie Horse being her great grandsire. They simply don't get any better than this. She should mature about 14.1hh. We may change our minds about having her for sale so if you are interested in her you may want to speak for her quickly!
Click on the photos to enlarge.